What Scrum is
Scrum is a way of organising a small group of people to work together. The whole system is defined fully in the Scrum Guide, which is only 12 pages long. It involves using a board with columns representing the flow of work (e.g. 'To Do', 'Doing', 'Done'), with tasks written separately on their own 'tickets' (coloured pieces of paper) that people can move across the columns as they are done. The Scrum system also involves several recurring 'events' (team meetings), such as a short daily check-in, and longer, less-frequent meetings to adapt how the team works together and to plan out the next steps. All of this will be given a more detailed overview below.
Some background context
Scrum has millions of users around the world and has been around since 1997. It is really very mainstream. The reason you might never have heard of it is because it comes from the tech industry, and even where Scrum has escaped from that world, it is still associated with being corporate. People don't tend to think of it as a personal organisational technique.
Here is the story of how Scrum came to be: once upon a time, there was a way of doing things in companies called 'waterfall'. When a company tried to do something, they would first pay their employees to work out a plan that had to contain all the steps involved and be fully signed off. Then they would execute the plan. This would usually go over time and over budget. Then came the testing of the thing, which would often find problems, but by then those problems would be a big deal to go back and fix because it might mean the loss of months of work.
Scrum came about as a way to put more emphasis on the doing of things than sticking to a rigid plan. It was one of the earliest examples of a new, 'agile' way of working that emerged in opposition to waterfall. It outlines a simple system or framework for small teams to work together more effectively, and in a way that allows continuous real-world feedback and adjustment to changing priorities.
What Scrum involves
As for how it's done, here is a basic outline/glossary of all the parts required:
Those are the main terms and elements of how a Scrum system works. It is not too difficult to get your head around, but actually doing it consistently and well is tricky. Underlying the whole system is the principle of empiricism; that is, of inspecting and adapting what you're doing to fit what is really happening, rather than a fantasy of how we wish it was would go.
You now know enough, with the help of the diagram below, to go ahead and try out doing Home Scrum yourself. However, if you want more help and detail, then check back to the reading order page for what to read next.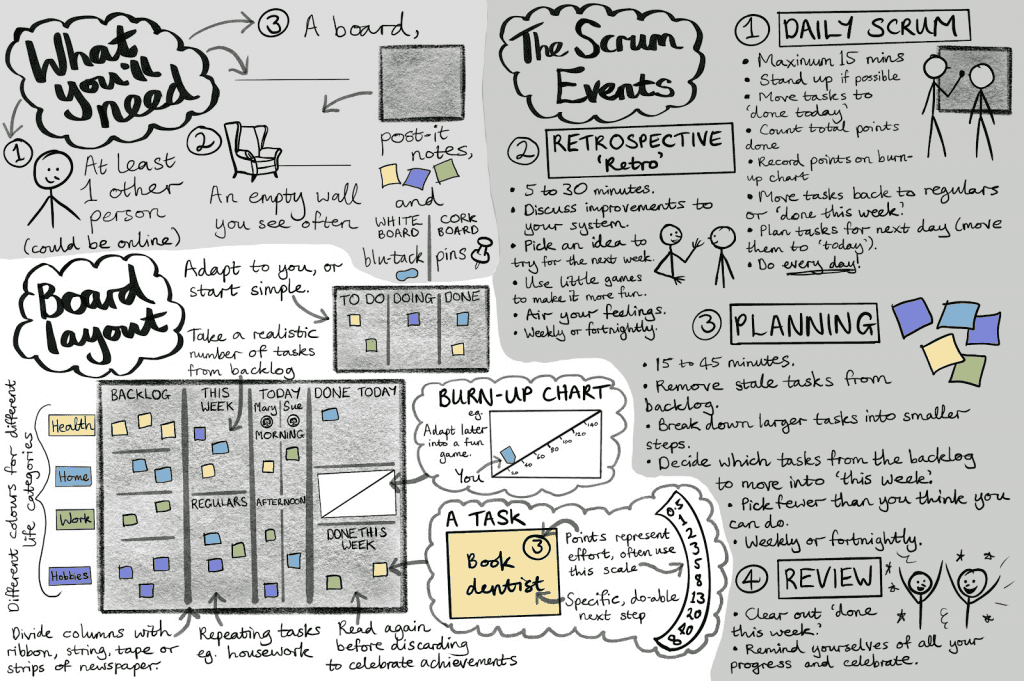 Diagram transcript
First section: What you'll need
1) At least one other person (could be online)
2) An empty wall you see often
3) A board, post-it notes, and (for a whiteboard) blu-tack or (for a cork board) pins.
Second section: Board layout
Adapt this layout to you, or start simple with columns for To Do, Doing, and Done.
Divide columns with ribbon, string, tape, or strips of newspaper.
Use different colours for different life categories (e.g. Health, Home, Work, Hobbies).
Each task should be on a single post-it note of the appropriate colour, with a specific, do-able next step written on it. In the top corner you can write a number in a circle, which gives the task points. Points represent effort, and we often use the following scale: 0.5, 1, 2, 3, 5, 8, 13, 20, 40, infinity.
Suggested landscape board layout:
1) 'Backlog' first column, far left, groups tasks by life category
2) 'This Week' top half of second column; fill this with a realistic number of tasks from the backlog
3) 'Regulars' bottom half of second column; 'Regulars' are repeating tasks, e.g. housework.
4) 'Today' third column, potentially split further into columns for each person's tasks. Could add a 'Morning' heading at the top of the column and an 'Afternoon' one halfway down, to indicate when you'll get to a task.
4) 'Done today' top third fourth column.
5) 'Burn-up Chart' middle third fourth column, this can just be a simple graph to show how many tasks you've done, but can be adapted later into a fun game.
6) 'Done This Week', bottom third fourth column; read the tasks from here again before discarding them, to celebrate your achievements.
Third section: The Scrum Events
1) The Daily Scrum:
maximum 15 minutes
stand up if possible
move tasks to 'done today'
count total points done
record points on burn-up chart
move tasks back to regulars or into 'done this week'
plan tasks for next day (move them to 'today')
do every day
2) Retrospective ('retro')
5 to 30 minutes
Discuss improvements to your system
Pick an idea to try for the next week
Use little games to make it more fun
Air your feelings
Weekly or fortnightly
3) Planning
15 to 45 minutes
Remove stale tasks from backlong
Break down larger tasks into smaller steps
Decide which tasks from the backlog to move into 'this week'
Pick fewer tasks than you think you can do
Weekly or fortnightly
4) Review
Clear out 'done this week'
Remind yourself of all your progress and celebrate