Habitica and Loresome
Habitica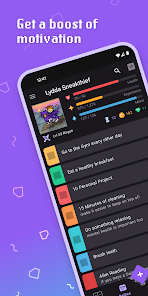 The Habitica website is a wonderful community of people who all struggle to get things done, but often do a lot better by putting everything they need to do through the world of Habitica. You are a little pixel-art character in a pseudo-role-playing fantasy game, and the tasks and habits that you complete (and streaks that you maintain) keep your character strong and help you equip them with better armour and weapons.
It is incredibly pleasing to 'play' your life as a video game. It becomes even more engrossing when you join up with others in forums and small groups called parties to fight monsters together, and you can also earn in-game money to collect trinkets, power-ups and costumes for your character.
If Home Scrum or bullet journaling aren't working out for you, and Habitica appeals, I would definitely give it a shot! Even if it only works for you for a few months, it should still be a few months of enjoyable productivity.
Loresome

I haven't tried Loresome myself, but it is similar to Habitica in that it also involves a role-playing game. However, this time your character does things by themselves, and completing your tasks helps them along their journey. You get to read about their accomplishments in their journal and watch their progress on a map as they gradually become more and more bad-ass. This would probably be good if you want a more low-key version of Habitica.